People are stockpiling gardening supplies. That's the smart thing to do in these trying times. #gardeningrocks
Does it hurt when you pick fruits and vegetables? The tough days are gone with Gardening Thumb Knife. Our easy pick - Gardening Thumb Knife is designed with a built-in knife that is perfect for instant cutting, picking, pruning of vegetables, fruits, twigs, branches of a plant, and more!
Made with imported grade A stainless steel with an arc blade design for safer and easier cutting. Our gardening knife has a silicone finger cover with a unique elasticity for safety and comfortable gardening. These are effective and convenient for a one-hand picking or trimming for more efficient gardening.
The blade can be resharpened to give you a lifetime of usage.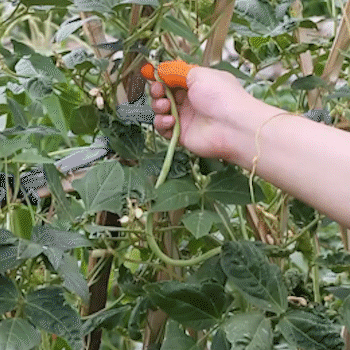 Nail fungus or onychomycosis is a common condition caused by the infection of the nail by organisms called dermatophytes that are found in our environment and soil. Dermatophytes invade the nail, causing yellowing, thickening and crumbling. Diseased nails can provide an entryway for other types of infections to enter the body. Your chances of getting onychomycosis to go up with advancing age and genetics play a role too. If you have poor circulation, diabetes, or a condition that suppresses your immune system, you are also at higher risk.
You can reduce the infection by using this thumb knife along with our garden claw gloves (sold separately)
Features:
EXQUISITE DESIGN: Thumb Knife includes an arc blade design that is made of stainless steel. It is easy to cut, clean and saves on labor. With a particular silicone fingertip, its unique elasticity makes you feel comfortable when you wear it.
WIDELY USED: The thumb cutter is suitable for picking most of the fruits and vegetables like strawberries, tomatoes, beans, eggplants, cucumbers, etc. It can also be used to do some gardening and trimming work.
CONVENIENT TO USE: The wearable knife is easy to use. Wear it on your fingers and start picking! When you are not using it, clean it, secure the blade and keep it away from children.
SAFETY FOR FINGERS: The lightweight and comfortable protector fits snugly on the fingers and perfectly protects your nails. It saves your fingers from harm, and prevent nail stains.
GREAT GIFT: There is nothing more precious than giving your loved one an essential gift! Perfect gifts for yourself, mom or dad, even for your friends who love gardening.
These special cut-proof finger sleeves with unique elasticity make you feel comfortable when you wear it while providing you protection from cuts and scrapes. This is a very good companion for our popular Gardening Thumb Knife.
Packing includes:
1 Gardening Thumb + 1 Index finger sleeve
Our product is shipped from our warehouse in Chicago, USA or from a warehouse outside the USA. You can choose where to get your item shipped from during checkout. There will be a flat shipping fee if the US warehouse is selected.
1. COVID-19 UPDATE
There is nothing more important to us than the health and safety of everyone in the Thread Clothing Community - our customers, our team, and our artisans. Due to the ever-changing situation surrounding COVID-19, there may be a small delay in the delivery of your package. Customs and postal services in many regions are observing social distancing and have reduced their manpower. It is an attempt to help stop the spread of the COVID-19 virus that is currently plaguing countries across the globe.
2. How Long Does Delivery Take?
United States - Please allow 7-15 business days.
International - Please allow 12-20 business days (average) for the items to arrive in the following countries: United Kingdom, Australia, Canada, New Zealand, Belgium, Brazil, Switzerland, Germany, Denmark, Spain, France, Greece, Ireland, Israel, Italy, Mexico, Netherlands, Poland.
Due to the current situation with lockdowns across the globe, orders may take an additional 2-3 working days to be delivered. We are working hard to get all your orders sent out as quickly as possible and we're very sorry that it's taking a little longer than usual.
3. Do You Ship Worldwide?
Yes, Got-it Clothing ships products worldwide every day. Shipping is available for most countries around the world.
4. Where's My Tracking Number?
Tracking information is available within 2-5 days from purchase. Tracking details will be supplied once the orders have been shipped. You will get an email confirming shipment of your orders, this will contain the tracking number. If you did not receive any message from us after 7 days from purchase, please contact our support team at contact us page, or reply to your Order Confirmation email.
5. How Secure Is My Personal Information?
Got-it Clothing adheres to highest industry standards in order to protect your personal information with the best security solutions. Your credit card information and personal details are encrypted during transmission using SSL (secure socket layer technology), which is widely used on the Internet for processing payments safely.
6. Can I Amend My Order?
We try to process orders as quick as possible to make sure you receive them as soon as possible. You can amend your order as much as you like before it is shipped out, but after this point you will be unable to make amendments to your order
7. What's Your Policy On Refunds?
100% Satisfaction Guarantee - We want to provide you with a risk-free shopping experience. We trust our customers to not take advantage of us on this offer, therefore If at any time within 30 days of receiving your offer you are not satisfied, we will refund your money. No questions asked.
8. How much the courier freight will be?
Shipping Method
Order Price
Shipping Price
Shipping Standard
<

$

49.00

$6.99
Shipping Standard
≥

$

49.00

Free
9. Do I have to pay VAT / Tax?
You don't need to pay any taxes when order from us, and for most of the countries, our customers do not need to pay importing fees, duties or VAT(Valued Additional Tax).
10. Where I can track my order?
You can use your tracking number to track the parcel at here: TRACK YOUR ORDER