More Effective Way Of Preserving The Freshness Of Leftover Foods!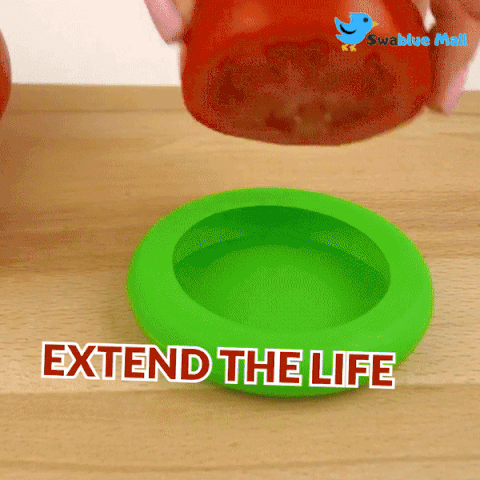 Preserve the freshness of leftover fruits and vegetables with this Silicone Food Preservation Cover. Just push the leftover food half down into the closest-sized Food Cover and save it in your fridge until you need it again. When the food is pushed into the Food Saver, it tightly hugs around the food and creates a seal to hold in the natural juices and prevent exposure to circulating air, which can cause food to spoil or dehydrate.
This food cover also helps homes cut back on the use of plastic wrap, foil, and plastic bags! Over 40% of all groceries purchased in the United States get thrown in the trash!! The average American family of four throws away $1500 worth of food EVERY year. Imagine how much you could save by improving your daily habits! More than 48% (almost HALF) of all fresh produce purchased gets thrown away without being eaten. Prevent this from happening to your own family.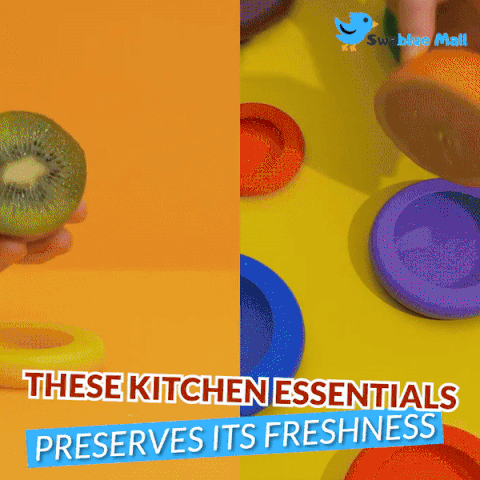 BENEFITS:
USE ON A VARIETY OF FRUITS AND VEGETABLES:

The Food Preservation Cover fits perfectly on a variety of fruits and vegetables like lemons, onions, tomatoes, cucumbers, and many more.
USE THEM ON HARDGOODS: These food huggers can be used to reseal open jars and cans; Now you can use Tupperware with misplaced lids again.
EXTEND THE LIFE OF UNUSED FRUIT & VEGETABLES: The Food Preservation Cover is made to help extend the life of your unused fruits and vegetables; These are reusable making them a fantastic solution to avoid using wasteful plastic wrap.
DISHWASHER SAFE & BPA FREE: These food savers are made from food-safe, BPA free silicone; All huggers are dishwasher safe, making clean up quick and easy.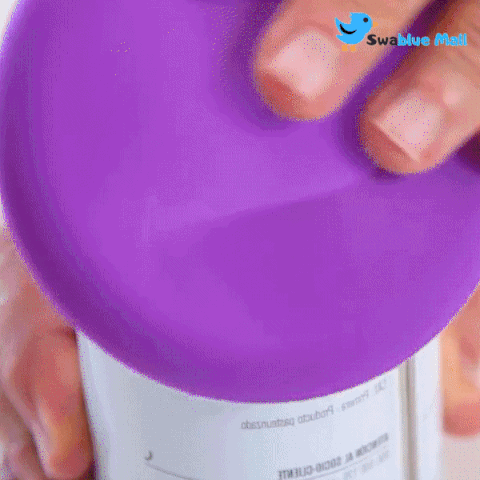 FEATURES:
These Food Savers fit perfectly on a variety of cut fruits and vegetables

like lemons, avocados, onions, cucumbers, tomatoes, and more.
These Food Savers can also be used to reseal open jars and cans.

Help extend the life of your unused fruits and vegetables

and is an alternative to wasteful plastic wrap.
Made from food-safe, BPA

-

free silicone and are dishwasher safe.
100% BPA and Phthalate free so that all "hugs" are healthy hugs
FDA silicone with no fillers

and no shortcuts! (beware imitations)
This unique set of five Food Huggers is the only set that includes a mini hugger that is a perfect banana saver.

 

The four sizes ensure you always have the right fit.
Food Preservation Cover can also be used as reusable can covers to keep things fresh when you don't use the whole can.
SPECIFICATIONS:
Material: Silicone
Size: 6cm/8.5cm/11cm/13.5cm
PACKAGE INCLUDES:
4pcs x Silicone Food Preservation Cover
1. COVID-19 UPDATE
There is nothing more important to us than the health and safety of everyone in the Thread Clothing Community - our customers, our team, and our artisans. Due to the ever-changing situation surrounding COVID-19, there may be a small delay in the delivery of your package. Customs and postal services in many regions are observing social distancing and have reduced their manpower. It is an attempt to help stop the spread of the COVID-19 virus that is currently plaguing countries across the globe.
2. How Long Does Delivery Take?
United States - Please allow 7-15 business days.
International - Please allow 12-20 business days (average) for the items to arrive in the following countries: United Kingdom, Australia, Canada, New Zealand, Belgium, Brazil, Switzerland, Germany, Denmark, Spain, France, Greece, Ireland, Israel, Italy, Mexico, Netherlands, Poland.
Due to the current situation with lockdowns across the globe, orders may take an additional 2-3 working days to be delivered. We are working hard to get all your orders sent out as quickly as possible and we're very sorry that it's taking a little longer than usual.
3. Do You Ship Worldwide?
Yes, Got-it Clothing ships products worldwide every day. Shipping is available for most countries around the world.
4. Where's My Tracking Number?
Tracking information is available within 2-5 days from purchase. Tracking details will be supplied once the orders have been shipped. You will get an email confirming shipment of your orders, this will contain the tracking number. If you did not receive any message from us after 7 days from purchase, please contact our support team at contact us page, or reply to your Order Confirmation email.
5. How Secure Is My Personal Information?
Got-it Clothing adheres to highest industry standards in order to protect your personal information with the best security solutions. Your credit card information and personal details are encrypted during transmission using SSL (secure socket layer technology), which is widely used on the Internet for processing payments safely.
6. Can I Amend My Order?
We try to process orders as quick as possible to make sure you receive them as soon as possible. You can amend your order as much as you like before it is shipped out, but after this point you will be unable to make amendments to your order
7. What's Your Policy On Refunds?
100% Satisfaction Guarantee - We want to provide you with a risk-free shopping experience. We trust our customers to not take advantage of us on this offer, therefore If at any time within 30 days of receiving your offer you are not satisfied, we will refund your money. No questions asked.
8. How much the courier freight will be?
Shipping Method
Order Price
Shipping Price
Shipping Standard
<

$

49.00

$6.99
Shipping Standard
≥

$

49.00

Free
9. Do I have to pay VAT / Tax?
You don't need to pay any taxes when order from us, and for most of the countries, our customers do not need to pay importing fees, duties or VAT(Valued Additional Tax).
10. Where I can track my order?
You can use your tracking number to track the parcel at here: TRACK YOUR ORDER